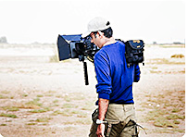 10 Frame Handles is the brainchild
of digital artist, Bob Gundu
Ever since he was a tot, Bob played with crayons, markers, cardboard and popsicle sticks constructing things that both fascinated and perplexed his parents. Things haven't changed much from those days. Lately, his passion for the arts is displayed through photography, film, and visual effects.

Much of his love for design came from studying architecture at the University of Toronto, which quickly transformed into graphic design and computer animation. Bob had the pleasure of using many of his skills at SimEx, a simulator ride company. Here he combined his lust for design and film. Soon after, he began his visual effects career with GVFX. At this post-production facility, Bob was a senior compositor working on various science fiction television shows and feature films. Later, Bob used his knowledge of animation and visual effects, and applied them at the animation and design software company, Alias|Wavefront (now part of Autodesk). Bob developed several learning tools for the Oscar winning software, Maya.

Finally in 2003, Bob established his own company, 10 Frame Handles. Here Bob creates high-quality content for print, film, and web. He is fortunate to be able to collaborate with amazing clients, combine many of his loves and is having loads of fun at the same time!

10 Frame Handles is based out of Toronto, Canada.